Success is a lot more fun when you have the right tools.
What if you knew exactly how to break your big projects down into simple, manageable steps that helped you get them done stress-free?
With the Productivity Prologue, there's no need to panic over all your projects! In this micro training, you'll learn the tools to create an inspired task list that's actually fun to work on so you stay motivated to complete it, all in just a couple of hours.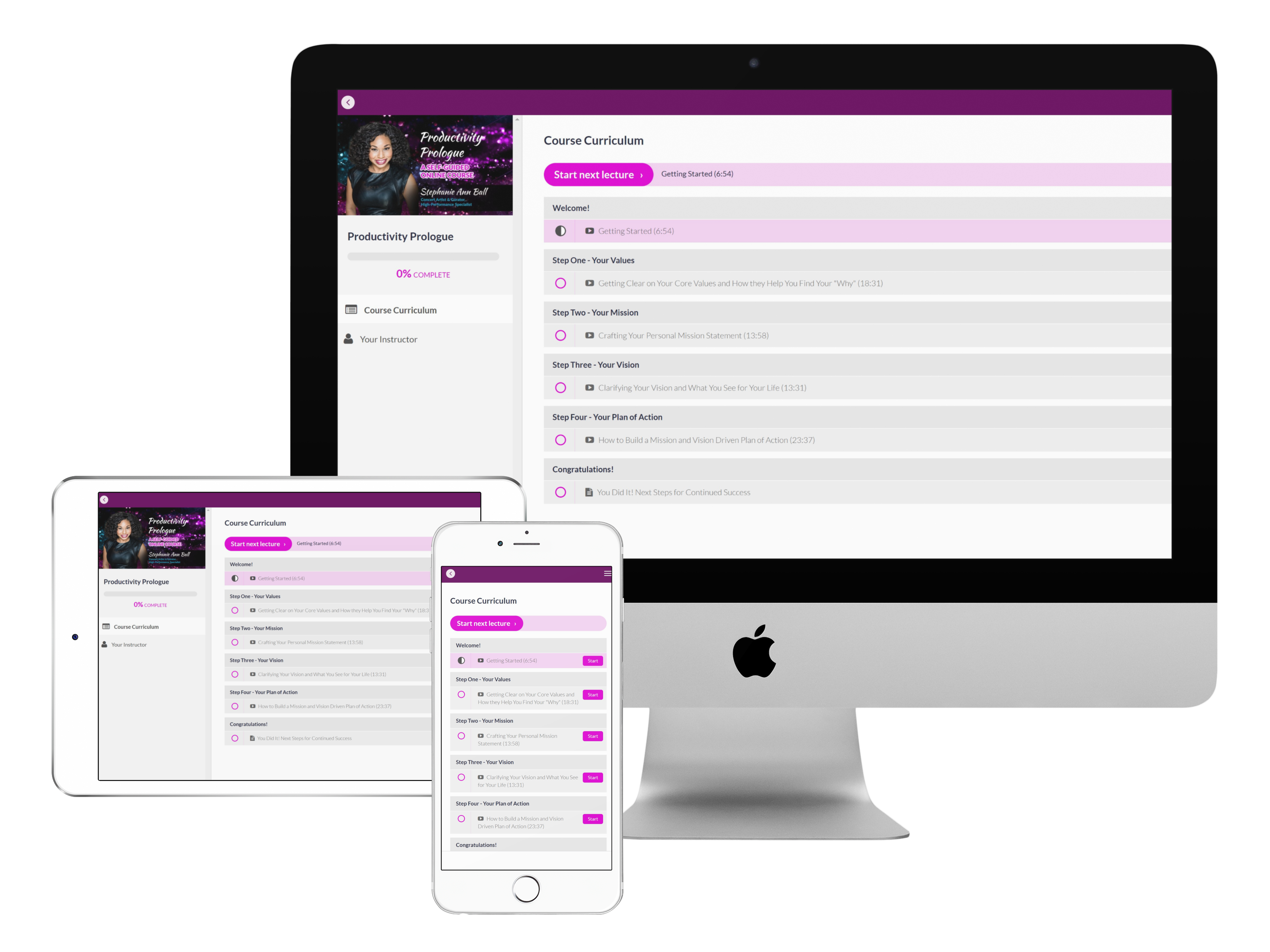 Tell me if this sounds like you...
You feel like you're always busy and overwhelmed but you're not actually making any progress towards your goals.
You're constantly procrastinating and falling behind because you're never sure what to do next or how to begin.
You feel like something is just "off" and like the projects you're working on aren't always helping you stand powerfully in your purpose.
You need to get back on track.
...but how?
What if you could whip up a well-prioritized to-do list quickly, that helped you carry out your life's mission efficiently and easily?
That's exactly why I created the Productivity Prologue. I wanted to take my most popular live training and deliver it to you, so you can follow the proven framework that helps you align your productivity with your values, vision, and mission and bring those passion projects to life in record time.
So if you want to learn how to do this in just a few short videos, grab it here:
Learn to inspire your own motivation!
Productivity Prologue is a micro training that helps you uncover what you want and why you want it, so you can make sure your projects are in alignment with your desires before the work begins. Inside, you'll find four easy to implement video trainings that teach you:
What are your Values? 
► How to tap into your core values so you can use them as a guiding light in your personal and professional life.
What is your Mission?
► How to define your personal mission statement so you always have a compass that helps you do everything from make decisions to prioritize.
What is your Vision?
► How to clarify your vision so you make sure that your daily activities are moving toward the right end goal.
What is your Plan?
► How to design a highly efficient strategic action plan that makes it easy to check off task after task and complete it in no time.
Right now you're struggling with...
► Feeling overwhelmed with too many things to do, and not even getting anywhere.
► Getting confused about what you should be doing next because you can't ever seem to prioritize your to-do list the right way.
► Wondering if you should just give up because your projects don't even bring you joy anymore.
Imagine if...
► You knew exactly what to focus on and end each day feeling like a productive powerhouse.
► You were in control of your time management because you were only doing what's necessary to get sustainable results instead of a bunch of busywork.
► You wake up each day feeling invigorated and full of energy again because your to-do list finally brings you joy and you can't wait to get to work.
Let's make those possibilities a reality!
All this can happen for you with the Productivity Prologue.
What Will We Cover?
This 5-module PRODUCTIVITY PROLOGUE course teaches you the secrets to sustainable success, by helping you get crystal clear on your direction, mission, and path forward.
Here is a taste of what we'll go through: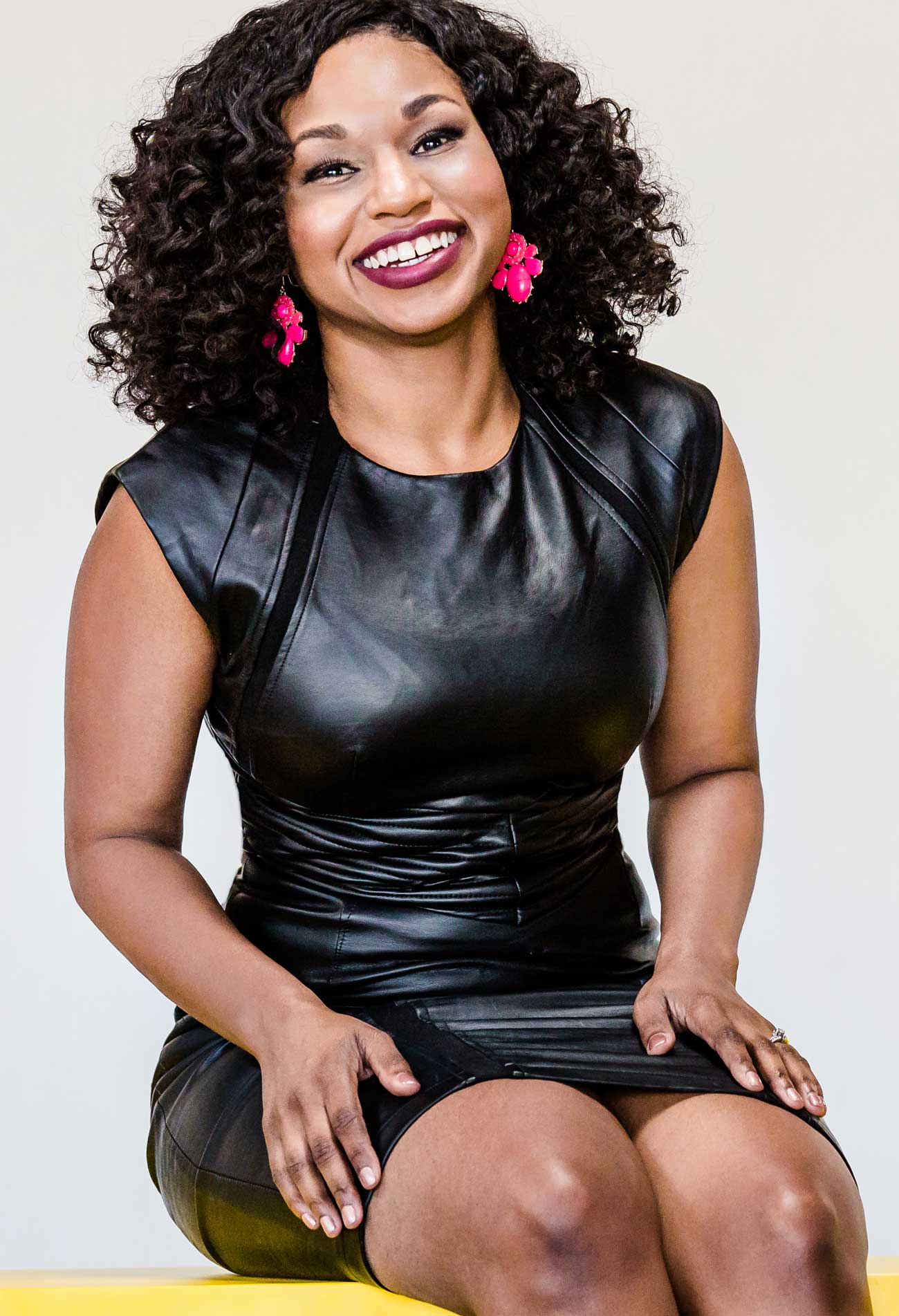 I had to learn this too...
Hi there, I'm Stephanie. I'm a high performance specialist with a background in classical vocal music, and a passion for teaching other creatives how to get themselves together so they can be more productive and have more fun. In my Illuminate Your Legacy Academy, I've combined my background in the arts with my 15 plus years in education, human behavior, customer service, and administrative support to help my clients achieve extraordinary results when it comes to focus, strategic planning, and goal achievement.
My signature strategy, the L.I.G.H.T. Formula, teaches others how to boost their own time management and productivity skills, all while learning to channel the focus of an elite performer.
The Productivity Prologue focuses on the L of the Formula - Leverage Your Mission. This is a special training for me because the personal mission statement is one of the tools that turned my entire business around. I struggled for many years feeling out of alignment with what I really wanted, and as a result wasted a ton of time on the wrong things and nearly burning out. Once I tuned back into my values, getting productive became a piece of cake, and I can get myself out of the danger zone any time I start to get overwhelmed and need to simplify.
After presenting this concept as a live training to hundreds of students, I decided to create the Productivity Prologue so I could get it to more people in a self paced course format. I want YOU to be able to align with your mission, vision, and values so when you're ready to get to work you can cruise right on through your well put together task list.
Can't wait to see you on the inside!
It's Been Amazing Watching These Women Grow
As helpful as these trainings are, ultimately the credit goes to each of the amazing women who have made this commitment to themselves and their goals.
I'm so proud of each of them.
Set yourself up for success!
When you finish this course, you'll be one step ahead of everyone else who tries other productivity tools, because you'll have the secret foundation that almost never gets taught elsewhere.
Productivity Prologue
Here's what's inside...
Five easy to digest video training modules that cover the following ($297 Value):
An overview that tells you what to expect and what materials you'll need so you can have the most successful experience possible.
How to find your core values so you can use them whenever you need to in your personal and professional life.
How to write out your personal mission statement so your projects and plans are in alignment with your life's purpose.
How to get crystal clear on your vision so you can always make sure that your daily activities are taking you where you want to go.
How to design a highly efficient strategic action plan that makes keeps you efficient and productive no matter what other distractions you have coming at you.
A worksheet for each module to help get your creativity flowing ($97 Value).
Fun Downloadable Bonuses! ($97 Value):
33 Ways to Beat Overwhelm - tools from my next course Undoing Overwhelm.
Create Unstoppable Momentum - my top tools for busting procrastination.
Self Care Journal prompts - questions that help you reflect on how to put yourself at the top of your to-do list.
Access to my exclusive clients-only Facebook community where you'll get extra bonus content every week and plenty of support from me (Until now, this space was reserved for my private 1:1 clients, so the value is PRICELESS here!)
The total value for the Productivity Prologue comes in at well over $500, but I want to get it to as many creatives as possible, so right now you can enroll for just $47!
❔ FAQs...
► I'm already so busy, how will I have time to get this done?
These trainings were intentionally designed to be bite sized and easy to digest. Each video is 20 minutes or less, and gives you simple steps that are easy to implement as you follow along. You'll be able to get one training done per day, or knock them all out in just a couple of hours.
► Why do I need to start by considering my values, vision, and mission; can't I just skip all that and dive right into the productivity module?
I know how eager you are to dive right in and get to work. But hear me out, if you take a little time to do the prework on the front end, you'll end up saving yourself tons of time on the back end. I want you to be as efficient with your precious time as you can be, so this really will be the fastest path to quality action.
► How long do I have access to the content?
You have lifetime access to the training and all the bonus content, plus any updates that I make to the content!
► You mentioned an exclusive Facebook community; what can I expect from that?
The community is the place where you'll be able to interact with other people from the Illuminate Your Legacy Academy, tune into weekly lives from me, and have the opportunity to engage with my team and me so we can answer your questions directly.
► What do I do if I have a question or a problem with the materials or the platform?
If something doesn't work properly, or you don't receive something you're supposed to, please email my team at [email protected] and we'll help you get back on track ASAP.
► What should I do if I need more personalized help than this?
If you're ready to take things to the next level with some 1:1 help from me, here's the link to my calendar to book a strategy session and see if we're a good fit.
► Will this really work for me?
Ultimately, the amount of progress you make is up to you, but rest assured this training has been taught to hundreds of people in countries all over the world, so there will be many things you can use to move you forward if you implement the steps.
Who is this for?
► Big creative thinkers with lots of ideas, but who struggle to actually complete something because you get so overwhelmed at the thought of trying to figure out where to start.
► Entrepreneurs or small business owners with a ton of things going on, feel stuck and behind because their project plan just doesn't seem quite right.
► Creative thinkers in corporate leadership positions who want to boost their own skills, while inspiring and leading their teams.
► People who have a million things to manage at home and want to keep track of all the moving parts with a little more ease.
► If you're an HR director looking for ways to support the well being of your employees while boosting productivity company wide, purchasing a set of bulk enrollment codes may be a great option for you. Please reach out to me at [email protected] and we can make that happen!
So How Does This Work?
Good news, I've made this as simple as possible for you!
01
Enroll
Once you hit purchase, you'll be taken to a page where you'll be able to input your credit card information.
02
Access
After you purchase, you'll receive a confirmation email with your account info so you can log in to the course platform and get started on the materials right away.
03
Get Started!
Finally, you'll receive a couple of follow up emails to make sure you were able to access everything smoothly, and that's that! Don't worry, I know we all get too many emails so I promise not to bombard your inbox.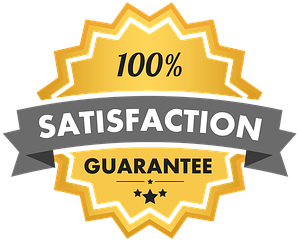 30-Day Satisfaction Guarantee
Due to the digital nature of this product, there will be no refunds after this purchase. However, we want you to be satisfied with your purchase and get the results you desire, so if you just truly aren't feeling it after 30 days, reach out and we'll find a way to make it right.